Source: Creech, Chad, Columbus Day: History and Flags, All Star Flags, https://www.allstarflags.com/facts/columbus-day-history-and-flags/
Columbus Day:  History and Flags
All Star Flags takes a look at the history behind Columbus Day, the present day controversy surrounding the holiday and the flags associated with Christopher Columbus and his famous expeditions.
Columbus Day:  The Holiday
Columbus Day celebrates the anniversary of Christopher Columbus' arrival in the Americas on October 12, 1492.  His fleet of three ships, the Niña, Pinta, and Santa Maria (the validity of these famous ship's names are widely disputed among historians) completed their two-month voyage trying to chart a western sea route to China and India when they landed in the Bahamas.  They later spotted Cuba (which they thought was mainland China) and finally Hispaniola (which they believed to be Japan).  It was in Hispaniola where he established the first small colony in the new western land.  Columbus, while widely celebrated as the founder of America, never actually reached North America in his exploration and mostly spent his time in the Caribbean Islands, and the Central and South America coasts.
Columbus Day was made an official holiday in 1937 by President Franklin D. Roosevelt.  It is celebrated each year on the second Monday of October.  Variations of the holiday date back as far as the late 1700's.  Most of the early celebrations were created by Catholic and Italian communities who celebrated Columbus' accomplishments with pride.  However, there has also been opposition to the holiday.  Columbus Day first faced controversy from those who rebelled against the holiday due to its association with Catholicism.  In later years, many Native Americans have disagreed with the celebration of a man who is believed to have been a barbaric ruler in Hispaniola, who tortured the indigenous people and made them into slaves.  Several states have replaced Columbus Day with alternative methods of remembrance.  Alabama celebrates a combination of Columbus Day and American Indian Heritage Day.  Hawaii calls the holiday Discovery Day, and Indigenous People's Day is celebrated in Berkeley, California.  In South Dakota, Native Americans' Day is celebrated.  Columbus Day is not recognized as a holiday in Nevada.  Other countries have alternate names for Columbus Day as well.  In the Bahamas, it is referred to as Discovery Day and Día de la Hispanidad and Fiesta Nacional in Spain.
Columbus Day:  The Flags
Columbus flew two flags on his initial voyage.  He flew the Lions and Castles Flag (the Royal Standard of Spain, Castile, and León).  The flag's design is based off the Coat of Arms of Castile and León but without the shield and crown.  This flag is made of four alternating quadrants.  Quadrants one and four have red backgrounds with Spanish castles having three crenellations and three windows.  The second and third quadrants have white backgrounds with a red colored rampant lion wearing a crown.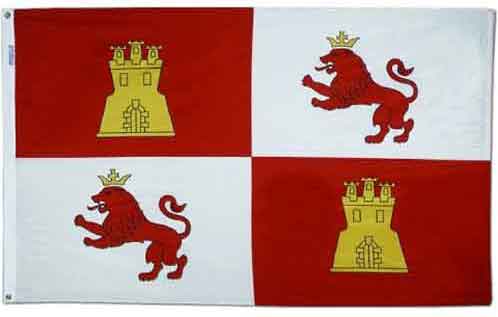 The other flag flown by the fleet of ships is now known as the Columbus Flag.  He wrote in his logbook in 1492 that we would carry a second flag to go with the Royal Standard and that flag would be selected by his two captains.  The Columbus Flag has a white field with a green Maltese cross in the center.  On either side of the cross were a green F and a green Y.  These letters paid homage to King Fernando of Aragon and Sicily and Ysabel, queen of Castile and Leon.  Above both the F and the Y were two golden open crowns.
Some other flags that are often flown in celebration of Columbus Day are:
Italy Flag – Honoring Columbus' Italian heritage
Spain Flag – Honoring Columbus' Spanish heritage
Papal Flag – Honoring Columbus' Catholic heritage
Interested in Flags?
All Star Flags has your favorite flag, with the largest assortment of Historical Flag and American Flags, as well as state, military, religious, and message flags, and so much more! They even have you covered with flagpoles and accessories. Fly your flag proudly today with the help of All Star Flags.  All Star Flags, Quality in Every Star!